Heliocare Ultra Gel SPF 90 & Heliocare Ultra Oral
$127.33
Heliocare Ultra Gel SPF 90
Broad spectrum of protection against UV rays. Innovative cosmetic technology that allows easy application and no visible residue.
Heliocare Ultra Oral
Oral protection with Fernblock, lycopene, lutein, vitamin C and E can help make up for the disadvantages of topical sunscreen, providing protection to all skin areas and reaching the skin's deepest layers.
Out of stock
Description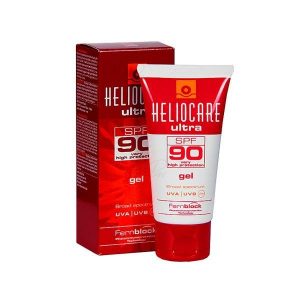 Heliocare Ultra Gel SPF 90, high protection sunscreen for most sensitive skins that subject to intense sun exposure. Protects the skin and counteracts damage derived from the sun. Formulated with physical and chemical filters, and the exclusive photoprotective technologies to optimize sun protection and prevention of cellular damage.
The key technologies:
Fernblock
a. Clinically proven to give protection to the skin against harmful effects of UV rays, minimising the occurrence of hyperpigmentation
b. Prevents and repairs against DNA damage, preventing premature skin aging
Green Tea Extract & Vitamin E
a. Additional antioxidant property to quench free radicals and prevent hyperpigmentation
Photoprotective technologies
a. Increases the efficacy of UV filters in the sunscreen
b. Repairs damaged cellular DNA, reducing the production of melanin, a main cause of hyperpigmentation
Physical & Chemical Filters to protect your skin against harmful UV rays
Phytosphingosine
a. Strong anti-microbial and anti-inflammatory properties that effectively reduces acne and improves condition of skin disorders such as atopic dermatitis and beneficial for acne prone skin
Suitable for post procedural care and sun sensitive skin.
Paraben-free.
Size: 50ml
Heliocare Ultra Oral has been extensively tested for its safety and efficacy. Formulated with 480mg of the key ingredient, Fernblock®, it has excellent antioxidant property to reduce free radicals by up to 50%, preventing formation of hyperpigmentation caused by UV rays. Heliocare Ultra Oral also protects the entire skin surface, increasing the skin's resistance against sunburn by up to 300%. The protection from Fernblock® also slows down skin aging by up to 55% through the inhibition of collagen depletion caused by UVA. Fernblock® has been extensively researched in Harvard Medical School for more than 12 years.
Bolstered with lycopene, lutein, vitamin C and vitamin E, Heliocare Ultra Oral has additional antioxidant benefits and also, has the abilities to protect the eye from UV rays.
In a recent study conducted in National Skin Centre Singapore on Fernblock®, 62% improvement in melasma was observed when compared to baseline in just 12 weeks.
Other than protecting your skin from harmful UV rays, Fernblock® repairs existing damage in the cellular level, preventing cell mutation and premature skin aging.
Heliocare Ultra Oral provides your skin with maximum sun protection when used in conjunction with topical sunscreen. It does not replace the need of topical sunscreen, topical sunscreen is still your first line of defence against harmful UV rays.
Suitable for daily consumption for intense sun protection and post dermatological procedural care.
Gluten-free.
Size: 30 capsules
DIRECTIONS OF USE
Apply Heliocare Ultra Gel SPF 90 in the morning, reapply frequently or every 2-3 hours during intensive exposure.
Consume 30 minutes before sun exposure. Take 1 capsule of Heliocare Ultra Oral a day for daily sun exposure. Take 2 capsules a day for intense sun exposure, 1 in the morning 1 in the mid day. (3 hours after first dose)