Calecim Restorative Hydration Cream & Calecim Professional Serum
$430.00
Calecim Restorative Hydration Cream
SKIN TYPES: Dry, Normal, Combination, Sensitive
SKIN CONDITIONS: Thin, Rough epidermis, Fine lines, Premature Aging
Calecim Professional Serum
SKIN TYPES: All skin types
SKIN CONDITIONS: Post-procedure, Red Sensitized, Traumatized
Description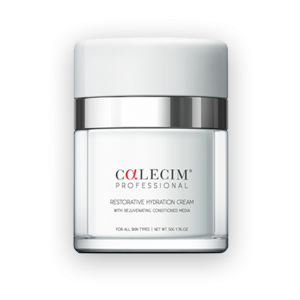 Restorative Hydration Cream revives dry, tired and stressed skin, with fast-acting ingredients that target every level of the skin. The result: Instantly plumping and hydrating, visible improvement of fine lines and shadows, and restoration of youthful glow and radiance.
Size: 50g
Professional Serum amplifies your skin's natural restoration process post-procedure, leading to improved aesthetic results, reduced redness, swelling and discomfort immediately after application, and significant reduction in down time.
Size: 5ml
DIRECTIONS OF USE
In the morning and evening, after cleansing and toning, apply Calecim Serum before applying Calecim Restorative Hydration Cream.