Aknicare Lotion
$51.84
Aknicare Lotion is designed to assist in creating a spot free environment in the skin. It optimises the environment so that normalisation of oil levels and skin shedding can occur, while also re-establishing the correct diameter of the pilo-sebaceous duct. The Lotion takes a little time to boost linoleic acid levels whereas (sebum)oil production may slow down faster resulting in initial increased skin moisture loss, resulting in drier skin. Aknicare Cream should be used to increase moisture levels in the skin and to assist in restoring skin linoleic acid levels. It is much more than a moisturiser as it also captures and holds water in the skin.
Description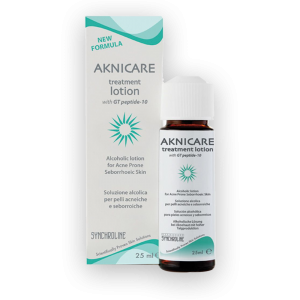 The most effective treatment exclusively formulated with Triethyl Citrate, Ethyl Linoleate, Salicylic Acid and GT-Peptide-10 for acne-prone skin. It quickly counteracts comedones and inflammatory lesions, such as papules and pustules. Working right at the source, it treats and prevents acne formation.
Size: 25ml
DIRECTIONS OF USE
Dab with the self-sterilizing applicator on affected areas twice daily.
ONCE DAILY EVERY MORNING AND NIGHT

DAB CAREFULLY ON AFFECTED AREAS
Additional information
| | |
| --- | --- |
| Brands | Aknicare |
| Type | Acne Treatment |