Aknicare Cream & Heliocare 360° Gel Oil-free SPF 50
$120.91
Aknicare Cream
Aknicare Cream contain an anti-bacterial agent and products to assist in calming and soothing inflammation and scarring risk reduction.
Heliocare 360° Gel Oil-free SPF 50
Oil-free dry touch sunscreen that provides full spectrum protection against harmful effects of UVA, UVB, blue light and infrared radiation-A.
Description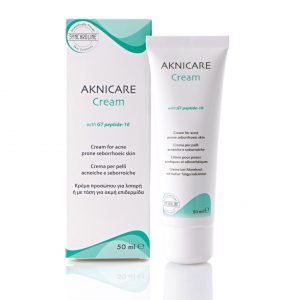 An oil in water emulsion specifically designed for controlling and decreasing the symptoms of acne. This impervious face cream is extremely hydrating, preventing dry skin and leaving your skin with a matte finish.
It may be used as a co-adjuvant in conjunction with other anti-acne therapies that dry and irritate the skin (such as for systemic or topical retinoid based treatments). It can also be used as a maintenance treatment in the remissive phase of acne.
Size: 30ml
Unique oil-free dry touch texture formulated with Fernblock® FC for powerful antioxidant activity, and other ingredients to prevent and repair DNA damage to prevent premature skin aging.
Enhanced with advanced filters and Bioshield system to absorb up to 200% more blue light than our skin and effectively target the damages from infrared radiation-A.
Enriched with anti-bacterial, anti-microbial and sebum controlling technology, it is recommended for sensitive and acne prone skin. Its oil-free dry touch formulation makes it particularly suitable for combination and oily skin types, reducing shine caused by humid climate, giving a matte finish on the skin.
Research has shown that damages from blue light and infrared radiation-A can be worst and more intense than UVA. Sources of blue light includes the sun, screens on mobile phones, computers, laptop, tablets, TVs, as well as fluorescent and LED lighting. While Infrared Radiation-A (IR-A) is what provides that warm sensation from the sun or even while cooking.
Does not contain oxybenzone and octinoxate, protecting the ocean and the marine life.
Excellent eye and skin tolerability tested under dermatological and ophthalmological control.
Paraben-free. Alcohol free.
Size: 50ml
DIRECTIONS OF USE
In the morning, after cleansing and toning, apply Aknicare Cream before applying Heliocare 360 Gel Oil Free SPF 50.
In the evening, after cleansing and toning apply Aknicare Cream.