Calecim

is a patented protein mix derived from umbilical cord lining extracts. The umbilical cord lining contains the richest source of epithelial and mesenchymal stem cells from a non-embryonic source. Calecim, a special skin regeneration technology, is a revolutionary product that encourages skin to regain its youthfulness.
As we age, our skin cells age too. This causes our skin cells regeneration cycle to slow down from 28 days to 40 days or more. Gradually this results in aged skin. Reset your skin with Calecim.
Scientific tests show that with Calecium there is:
Evidence of increased epidermal proliferation and cell turnover
Increased epidermal thickness
Improved dermal density with increased collagen synthesis
Calecium has been observed to help skin restore its natural renewal cycle in as little as 4 weeks!
WHAT CAN CALECIM DO FOR YOU?
Calecim has excellent healing properties and can be applied on our skin to reduce redness and down time after certain laser treatment sessions. It can also be used on its own to restore youth to the skin.
THE CALECIM PROFESSIONAL ANTI-AGING SYSTEM COMBINES:
Procedural Use
Calecim Professional Serum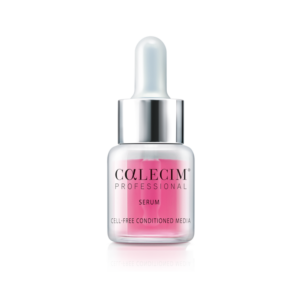 Home Maintenance System
Calecim Multi-Action Cream
CALECIM PROFESSIONAL SERUM
The Calecim Professional Serum is applied to your skin immediately after treatments such as Laser or Hydrafacial has been completed.
Our therapists will use a special technique to massage the serum into the skin. This ensures maximal absorption and efficacy of the serum.
The Calecim Professional Serum is pink because it contains a pH indicator.
As each batch of protein mix may differ slightly in acidity or alkalinity, the colour can range from light yellow to dark red.
After all, we want to ensure that only the best is applied to your skin.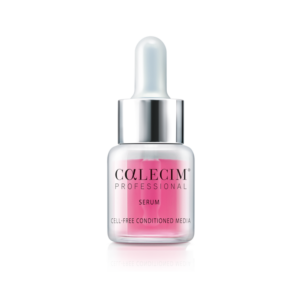 CALECIM MULTI-ACTION CREAM CONTAINS:
Soluble Collagen: provides skin with strength, shape and form
Albumin: maintains skin turgor and fullness
Fibronectin: binds to collagen, increasing its strength
Hyaluronic Acid: binds to water molecules to plump up skin
Consolidated Peptides or Gylcoproteins: play an important role in intercellular cross-talk; important in the delivery of 'skin rejuvenating' messages
A simple twice- daily application of this cream can supply the necessary nutrients that aid and boost the restoration of your skin's renewal cycle back to 28 days. This process is known as skin-cycle reset and may take approximately 4 weeks.